FOR IMMEDIATE RELEASE
October 8, 2019
Delta, BC – Today, Carla Qualtrough, the Liberal candidate in Delta, released her local platform ahead of the 2019 Federal Election.
Delta reflects the very best of Canada. As home to Canada's largest port, increasing medicinal and recreational marijuana production, and a new casino, various challenges have arisen that require a competent, hard working representative to advocate on behalf of the community.
"Our community deserves to have a Member of Parliament who will fight for all Deltans – not just a select few," said incumbent Liberal Candidate, Carla Qualtrough.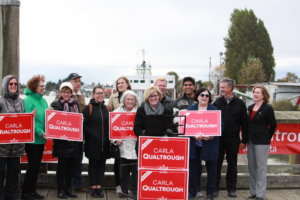 "Over the past weeks, months, and years, I have been listening to the voices of Deltans and know very well that each and every one of us cares deeply about our community – local public infrastructure, safety of our neighbourhoods, affordability, and the protection of our natural habitat. That is why I am proud to be releasing my own local platform of issues I will champion for Deltans in Parliament."
If re-elected, Carla Qualtrough is committing to continue her work serving Delta by:
Working with the Mayor to add much needed housing options for families, seniors and those who need help. We need to ensure we fill the gaps for vulnerable populations, like persons with disabilities, persons struggling with addiction, and those looking to downsize like our seniors.
Taking bold action to protect our environment, taking more climate action, and investing in disaster mitigation. This includes:

Restoring local ecosystems and natural habitats, in particular, the Fraser River Estuary;
Transitioning open-net pen salmon farming to inland closed-containment systems;
Banning single-use plastics and protecting 25% of our oceans, freshwater, and land by 2025.

Ensuring the RCMP Organized Crime Branch and the Canada Border Services Agency are adequately funded to support the Delta Police in both their work to combat criminal activity at the Port and the new casino as it relates to organized crime, drugs, gun smuggling, and money laundering.
Increasing access to family doctors, take the critical next steps to implement national universal pharmacare, and improving access to home care.
Committing that federal funding will be available to support the following infrastructure projects in our community:

The George Massey Tunnel Replacement Project;
The new track and field facility at North Delta Secondary School;
The raising of our dikes;
New and expanded public transit.
"The Conservatives spent a decade starving the RCMP, the CBSA, our municipalities and our country of the investments it needed to protect our families, grow our economy, and support our communities," said Carla Qualtrough.
"As we approach October 21st, Canadians have an important choice to make: keep moving forward and invest in our community and our people, or go back to the Conservative politics of fear, division and cuts to the services our community relies on. I choose forward for Delta. I choose forward for Canada."
NOTE: All commitments are backed by investments made by the Liberal government since 2015 and platform commitments recently rolled out in the Liberal Platform, Forward: A Real Plan for the Middle Class.
-30-
Media Contact
Nicholas Kang
campaign@carlaq.ca
1-613-809-3156